If you're near Cody, Wyoming– you may have seen how the entire town transforms in the summer. Only 70 miles from Yellowstone and close to the Montana Border, hundreds of people go through the town everyday to learn more about the myth, the legend, buffalo bill cody— for whom the town was named. If you head downtown, you can see a Buffalo Bill impersonator who claims the rough and tumble man was actually a distant relative of his. You can watch a real cowboy shoot out, or head to the fairgrounds for a real rodeo in the spirit of old Buffalo Bill. In fact, it's even claimed that he haunts one of his old haunts on main street–
You can check out the Buffalo Bill Historical Center and be wowed by the displays of western memorabilia and tools, plus an entire basement of various styles of firearm. You can head to the Buffalo Bill Dam, not too far from the city itself.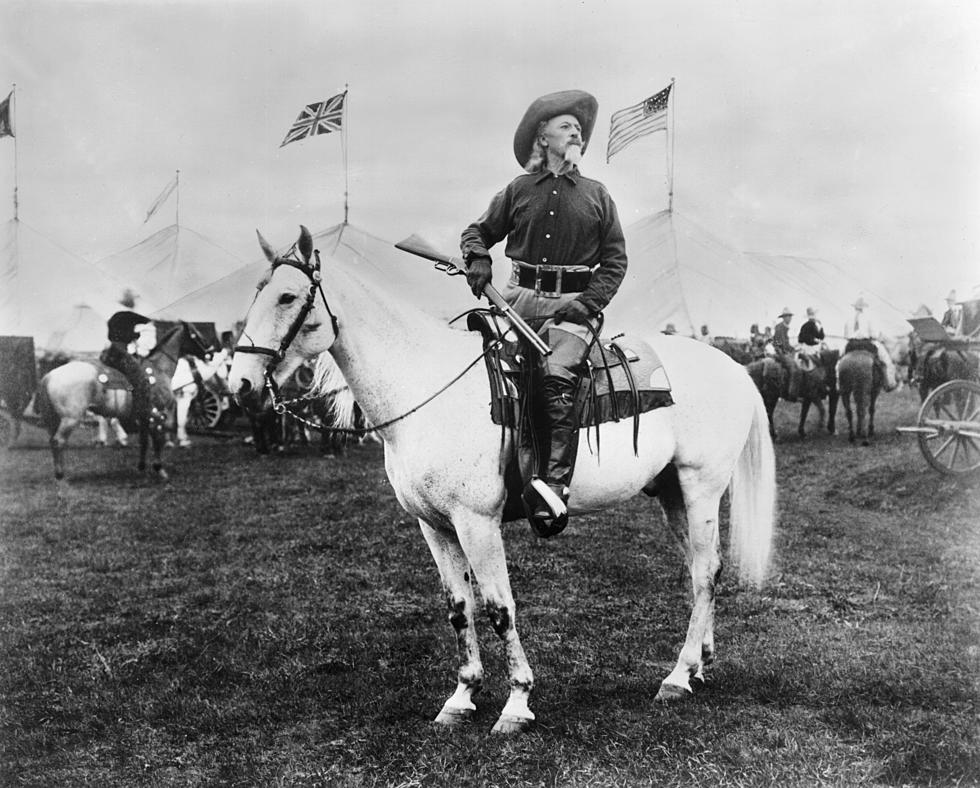 Many things in Wyoming owe their name and origin from the man who is seemingly synonymous with the westward expansion and the Wild West. Buffalo Bill Cody was a staple of the towns west of the Mississippi– helping set up the infrastructure for those going out west, riding on many an adventure, and establishing the identity of the Wild West through his famous Wild West Travelling Show.
Other towns said to bear Buffalo Bill's influence dot the plains and mountains of the west, with other Hotels and buildings in Wyoming also claiming him in their lineage. Even other towns in many other states claim him as his own– with his burial being in Golden, CO. Or at least that's what most people believe–
You see, one town holds claim over the eponymous Cody– And they claim to have his body, too. But we'll get to that later.
William F. Cody was born in a log cabin two miles west of LeClaire, Iowa, which at the time was Iowa Territory. The Codys lived in LeClaire until William, or "Willie" as he was known, was about 7 years old, leaving to move to the Kansas territory. While it was originally located in LeClaire, the full building was moved to the Buffalo Bill Historical Center of the West in Cody, WY in 1947. Despite this, you can still visit the regional history museum for Buffalo Bill in LeClaire.
In North Platte, Nebraska, you will see a giant sign commemorating Buffalo Bill, with billboards and directions to the ranch that Buffalo Bill founded in 1878. It's also known as "Scout's Rest Ranch." It was said this ranch was to be the place he would retire with his wife Louisa, and a mansion was built on the property. However, operating costs were high enough to warrant Cody to sell the property in 1911. Today, it's a tourist attraction and museum, allowing tours and visitors to experience the ranch. You can also visit the Fort Cody Trading Post in North Platte, which includes a miniature wild west show, souvenirs and gifts, and even a famous 2-headed calf.
Oakley, Kansas claims Buffalo Bill for his infamous context with William Comstock to see who could bring back the most buffalo meat in one day. Buffalo bill won the contest, and ten miles away in the town of Oakley, the Buffalo Bill Cultural Center was established, complete with a giant statue of the famous frontiersman, shooting a buffalo with a 50-caliber needle gun. Oakley considers itself the "Birthplace of the Legend," of Buffalo Bill.
Finally, Buffalo Bill's final resting place is a topic of controversy. Golden, CO has the official "Buffalo Bill Museum and Grave." William F. Cody passed away while visiting his sister's home in Denver, with his wife claiming that his last wish was to be buried with a view of the Rocky Mountains. Thus, he was buried on Lookout Mountain in Golden.
Despite this, residents of Cody, WY claimed that he wished to be buried in the town that bares his name and influence. Some theorists even speculate that Denver officials bribed relatives to keep Bill's remains, but a band of "Wyoming Faithful sneaked into the funeral home and spirited the real Cody back to his home in the Cowboy State."
The conspiracy says that Buffalo Bill's wife, Louisa, was offered 10 thousand dollars to keep his body near Golden, as city officials felt it would be a good tourism draw for the region. When louisa returned to Wyoming, the locals expected she was bringing their founder's body back for burial and were shocked to find out she'd left him behind in colorado. According to close friends, Fred Richard and Ned Frost, Buffalo Bill had asked to be buried on Cedar Mountain in the event of his death all the way back in 1906.
So a scheme was hatched to bring him back to his rightful place on a different mountain than one in rocky colorado.
Break
Locals claim that there's a second, true grave of Buffalo Bill on Cedar Mountain outside of Cody– and unmarked one to preserve its secrecy. This sounds so much like a heist movie, the bribing of officials, sneaking into a funeral home in the middle of the night and absconding with a body. Remember, this was in 1917, not today with modern vehicles and highways.
These body snatchers with the best intentions disappeared and traveled over 500 miles to get Cody back to his namesake town for burial, or so they claim. Biographers at the Buffalo Bill Cody Museum and Grave claim they know for certain the Wild West legend is under their care— totally dismissing the claims of his Body's travel across state lines.
"Buffalo Bill is a favorite son here — he put the American West on the map," said Bruce Eldredge, executive director of the Buffalo Bill Center of the West in Cody in an interview for the LA Times. "Wyoming residents want him here, the same way Denver wants him there."
The mystery of Cody's two graves is one the locals around Cody are happy to keep a mystery- even the belief that he might be on the mountain is enough.
The legend says that Buffalo Bill is actually buried somewhere atop Cedar Mountain in Cody. What do you think?